Gold, US dollar, Fed, FOMC, Treasury yield, real yield, GVZ index
Gold price surges to new highs as demand for safe-haven assets continues
The psychological mark of $2,000 has been breached due to rising volatility.
FOMC meeting ahead. Will this cause fluctuations in gold prices?
GOLD, DXY (USD), 10-YEAR US TREASURY PRICES AND REAL YIELD
All this price movement in the markets has led to an increase in gold volatility, as measured by the GVZ index. The GVZ Index measures implied volatility in the price of gold in a similar way to how the VIX Index measures the volatility of the S&P 500 Index.
Looking at the chart, we can see that the elevated 10-year Treasury yield, real yield, and DXY (USD) have not yet impacted the gold price.
The spot gold price reached the psychological $2,000 level last Friday as markets prepare for this week's Federal Open Market Committee (FOMC) meeting, which ends on Wednesday.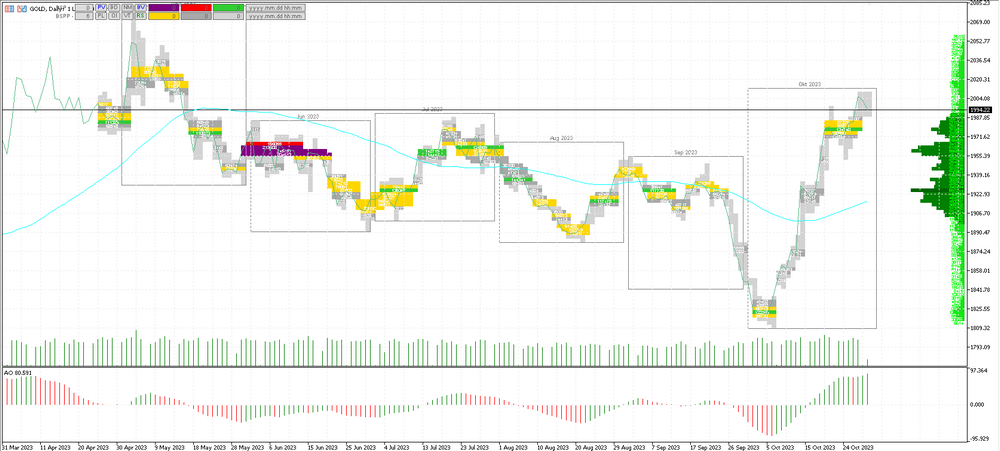 Treasury yields have eased from recent peaks but remain high, with the benchmark 10-year note trading at 5.02% last week, the highest since 2007. As a result, the yield fell back to 4.80% and has seen sharp price action since then.
Rising US government debt yields helped strengthen the US dollar. Additionally, perceived safe-haven assets such as US dollars and gold have risen in value as the geopolitical situation in the Middle East serves to undermine growth and risk-based assets.
To put it bluntly, when US dollar and Treasury yields rise, gold sometimes comes under selling pressure. Likewise, when real yields rise in the US, gold sometimes falls because it is a non-interest bearing asset.
US real yields rose until 2023 and recently hit a 15-year high on the 10-year portion of the curve, trading above 2.60%.
Real yield is the nominal yield minus the market-priced inflation rate received from Treasury Inflation-Protected Securities (TIPS) for the same duration.
A combination of higher nominal yields and softening inflation expectations has contributed to this latest surge.
The interest rate market is not expecting a change to the Fed's funds rate target at Wednesday's FOMC meeting, but discussions following Fed Chairman Jerome Powell's decision could provide some boost to the gold price. To learn more about the influence of central banks on markets, click on the banner.