Technologies for the trader
Trading platforms
Our trading platforms were developed by a professional trader and have a number of advantages.
The optimization of trading speed and the excellent interface of our Trader Workstation terminal allows you to choose the work area that best suits your trading needs:
 TWS Mosaic is a comprehensive and intuitive work terminal with quick and easy access to trading, management and portfolio of instruments.
 Classic TWS allows a trader to enter an order with a single click of trades from a spreadsheet and access many advanced trading tools in multiple windows.
Use our terminal in a browser - WebTrader, which has a simple and intuitive interface and allows you to view market data, place orders, track order execution accounts.
Trade in your account from any mobile device including iPhone, iPad and Android.
---
SmartRouting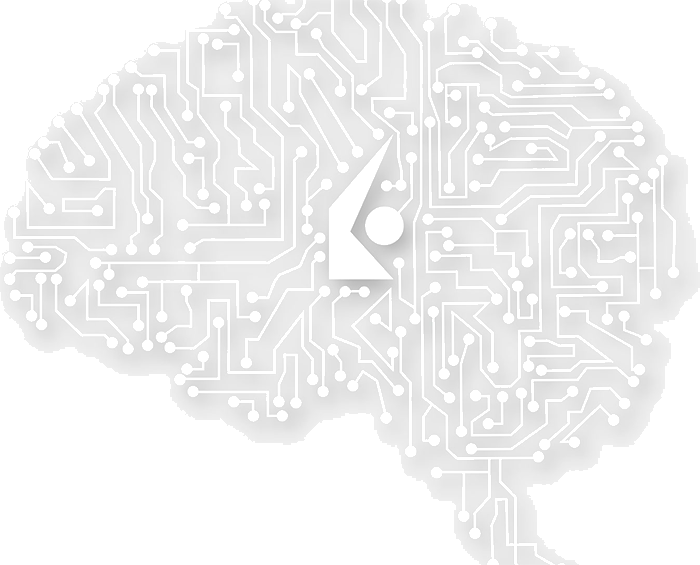 When determining the route for a market order when the domestic market is split between multiple exchanges, our smart router takes into account the transaction costs along with the fees or rebates for taking / adding liquidity. And thanks to TWS, clients looking for even more control over their orders can specify smart routing strategies for stocks and options for non-market orders. Clients can choose the following routes for non-market orders:
The exchange with the highest rebate.
Exchanges that quote this symbol.
The exchange with the highest volume, providing a rebate for adding liquidity.
The exchange with the highest volume, which charges the lowest fees for taking liquidity.
---
Orders for a trader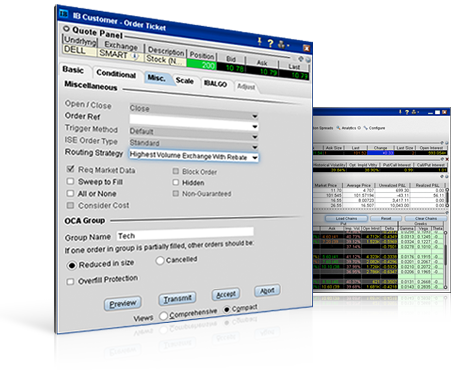 We have more than 60 order types to help a trader limit risks, increase the speed of execution and dispatch of orders, provide better prices and optimize work on the exchange.
To balance the risks to achieve the best execution with a large volume of orders, IBAlgos is used - advanced trading algorithms that help implement optimal strategies in Trader Workstation. In addition to our IBAlgos, Trader Workstation includes an Algo splitter, which minimizes the impact on the market for large orders by splitting a large lot of buying or selling at a time specified by the trader into smaller lots.
Balance market influence with risk to achieve the best execution for large order volumes with IBAlgos. Our advanced trading algorithms will help you implement your any trading strategy.
---
Trader's portfolio analysis
Analyze portfolio performance, create and save custom presentation reports for all periods in PDF PortfolioAnalyst:
 Create and save reports based on the comparison of many selected criteria and the ability to compare these selected criteria on your trading account in order to see the complete picture by comparing your trading statistics.
 Select one or more reports in your analysis, including breakdown by sector or asset class, time period or cumulative return, risk measure, and more.
 Using the Performance Attribution report explains the differences between the portfolio and the S&P 500 Index due to asset allocation and / or return variance from the index.
 Create PDF pages of images and reports for presentation.
---
Collaterals for short positions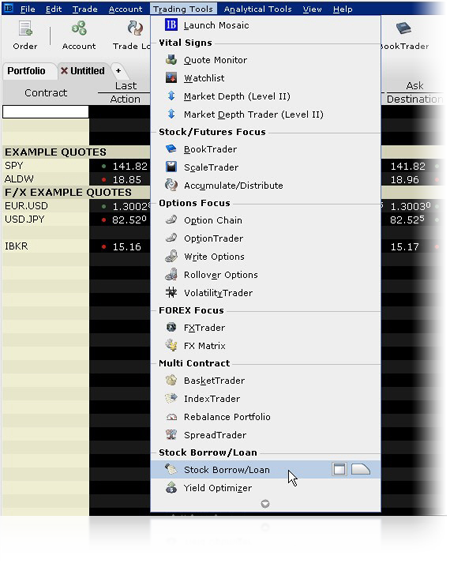 Collaterals for short positions
 Use the Stock Borrow Loan at TWS to collateralize US stocks through the AQS® Marketplace.
 Use the Short Stock Availability Tool in Account Management to find real-time availability of stocks for sale and their estimated prices.
 Join our Stock Yield Enhancement program, which allows you to receive your fully paid short shares and take back half of the earnings you borrowed.
 Join our Pre-Borrow program which allows you to pre-borrow shares.
---
Trading reports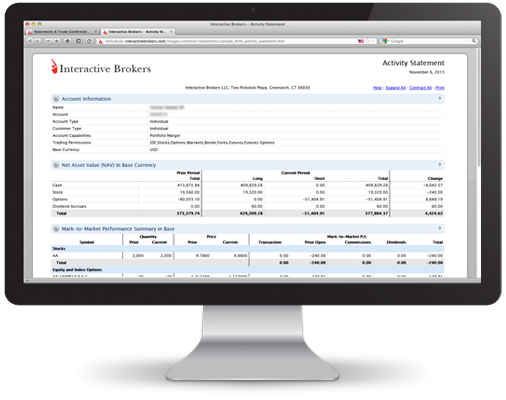 Our clients can view and customize all reports on the trading account
 Daily, monthly and annual online reports and trading statistics are also available in different formats - HTML and PDF.
 View statistics in rich or customized data that includes only the information you want to see.
 Real-time view of trade confirmations, trade details, and a range of other additional reports.
 Download reports in various formats, including XML, text and various third-party programs such as Quicken or MS Excel.
---
Management of risks
Our trading platforms have been developed by professional traders who are risk-averse and respectful of clients 'funds in their account with the ultimate goal of increasing our clients' profits:
 A real-time monitoring system will help you understand and manage your own risks, as well as allow you to influence the course of trading in the financial markets in the future.
 Real-time margin continually strengthens the limits for each account, automatic liquidation of a position on any individual account is configured in the client options.
 Navigator - add-ons in the trading terminal. In real time, it helps in managing market risks, controls the account balance when trading various instruments from the world and allows you to control and adjust risks.
 Automatically check orders.
---
Using API and CTCI
We offer alternative options for customers who want to access our system using their interface.
We provide our clients with an Application Programming Interface (API) for our IX CTCI connections:
 Build your own trading applications using our own APIs. Our API is available in several programming languages ​​and does not require additional technical costs, for example, a dedicated FIX server.
 Access to our trading system using our standard FIX CTCI solution, which is designed for customers who can support the FIX Computer-Computer Interface (CTCI) infrastructure.
Innovation for the trader