China worried about 5-week fall of yuan against dollar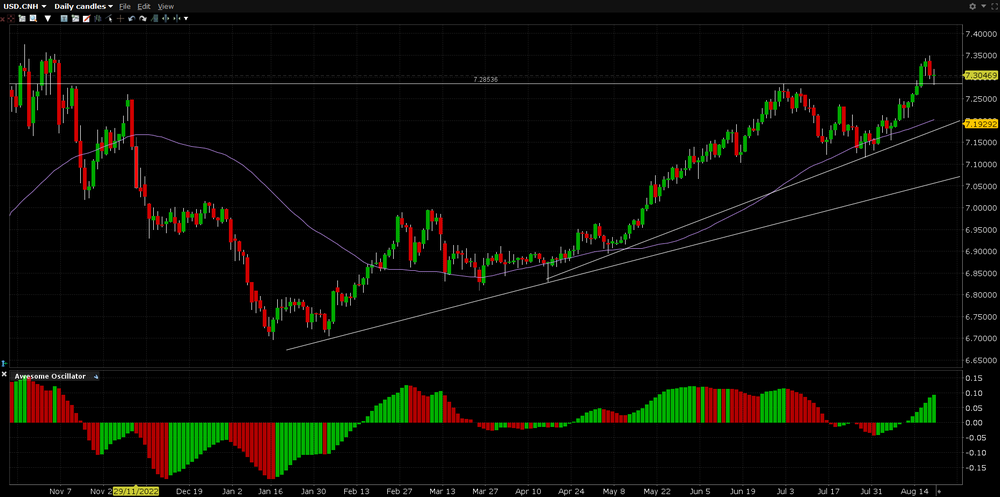 The dollar slipped on Friday but remains set for a fifth consecutive week of gains in its longest winning streak in 15 months, fueled by demand for safer assets amid worries about the Chinese economy and US rates.
The People's Bank of China set a much stronger-than-expected daily fix, lifting the yuan from a 9-month low a day earlier, while the pound sterling fell after UK retail sales fell more than expected in July.
Against the yuan, the dollar rose 0.1% to 7.30327 in offshore trading after the central bank set the official midpoint at 7.2006, more than 1,000 points above Reuters estimates.
China's economic troubles have worsened as real estate developer China Evergrande (3333.HK) is seeking Chapter 15 protection in a US bankruptcy court, and concerns are growing over default risks in its shadow banking sector.
Beijing has so far been disappointed in the stimulus even as the latest data painted an increasingly bleak picture of the economic outlook, although the PBOC unexpectedly cut rates earlier this week, widening the yield gap against the US, leaving the yuan even more vulnerable. and makes it go down.
"Developments in the troubled Chinese financial and property sector are emerging as the most visible factor in determining market sentiment," said Francesco Pesole, FX strategist at ING.
"High yields and rising risks in China suggest that the risk balance is moderately skewed towards the dollar," he added.
The US dollar index, which measures the currency against six other currencies, was unchanged at 103.40 after hitting a two-month high at 103.59 on Thursday. For a week it should grow by 0.5%.
Minutes from the Federal Reserve's latest meeting this week showed that most rate-setting committee members still see "significant risks of rising inflation," indicating a propensity for further rate hikes.
Strong economic data this week, especially retail sales data, has already reinforced the case for further tightening.